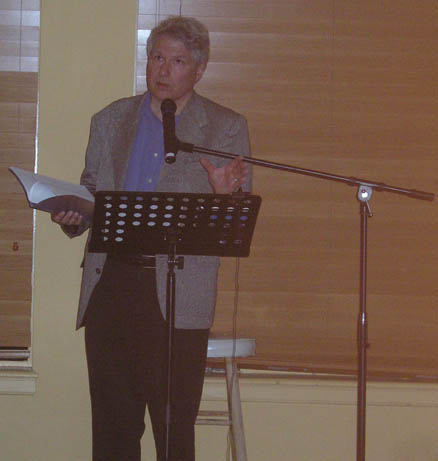 In the dimly lit Bistro 33 in Davis, Andy Jones and Brad Henderson (aka Beau Hamel) emerged as hosts for a reading by poet/critic Alan Williamson.
Brad started off the evening by reading
"Tonight, my friend, Joe Wenderoth, & I Are Watching UFC on Pay-per-view & We Don't Give a Rip What Our Colleagues at UC Davis Think"
dedicated to Joe Wenderoth and inspired by a trip to the Squaw Valley Writer's Conference where there was a wrestling camp running concurrently with the writer's conference. The piece chronicled Henderson's past as a championship high school and college wrestler, and it included a Freudian slip where one of the intense male-on-male scenes that, as Andy Jones later quipped, got a little "brokeback."
Andy then read two poems that come from his "A Poem a Day in the Month of May" catalog, which has found Andy looking to increase his poetry production in May. The first was entitled "Ascension."The second was called "Pre-history of the Teenager," and it featured enough adult content to render it unreadable to his daughter Geneva.
Alan Williamson, in one of his rare public readings in Davis, then took to the podium and read
Small College, All Male, Early 1960's
from his book
Res Publica
.
Then he read "Fallings From Us, Vanishings,"which took its title from Wordsworth's "Intimations Ode." He followed that poem with a poem by Gary Snyder from
Danger on Peaks
called "One Day in Late Summer."
He then read
"Fantasia on a Medieval Latin Poem,"
and he ended with a new work that is, as yet, unpublished. It was a piece that was a study of a koan and one's struggles to come to a conclusion with the paradox contained within a koan. One arrives at a conclusion not through intellect. The koan in question was this: does a door have buddha nature or not? The response to this was "mu" which could mean "no" in everyday usage or in another, higher meaning: unask this question as it poses a false dichotomy. The poem was entitled
"Empty Sky,"
and Alan Williamson read excerpts from it.