Every once in a while, one finds one's name in the spotlight.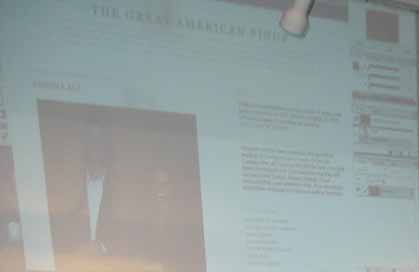 Such was the case in Sacramento, CA on Nov. 28 that The Great American Pinup assembled, with live bodies and with disembodied voices. David Koehn, Victor Schnickelfritz, and Shawn Pittard appeared before a brave crowd who weathered the second and coldest night of what was described as an "arctic blast." Geraldine Kim fell prey to a virus (as did Matthew Schmeer's voice on several pieces that were played). Richard Jeffrey Newman as well as Schmeer were featured via recorded voice.
Victor was the host of the evening and after briefly rehearsing the history of the two-year-old blog and what it has endeavored to achieve over that time, he read the opening piece of the evening entitled
"Wonder"
.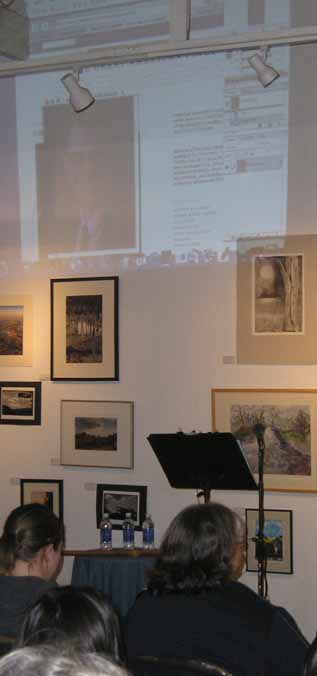 Then Matthew Schmeer's "accountant" picture floated above the crowd like an avenging ghost while his voice was heard reading: "Raisin Ode,"
"Waiting,"
"Poemsauce," "Outside Banning, California," "Driving My Mother to Her Grave," and
"1-800."
Victor read two more poems that illustrated his interest in merging the spoken voice with the singing voice that "quotes" pop songs and other varieties of song, similar to the way selected lines of verse were sampled in poems written in the past when persons, who kept many lines in their heads, would recognize them. The first one,
"Ohrwurm"
referenced Antonio Carlos Jobim's "Agua de Beber" and the second one, "Tent of Maybe, Dream of Home" referenced an obscure Paul Simon song entitled "The Teacher."
David Koehn then read from his re-released chapbook of poems called
Coil
. In one of these poems he attempted to "jump the crowd" (see below) in describing how one fishes with a net.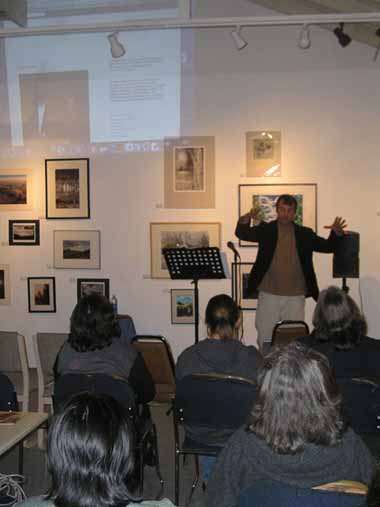 Then, like a latter-day Bob Dylan, Koehn switched to his "electronic set" and read a poem of his that was so new it had not yet been transferred to paper.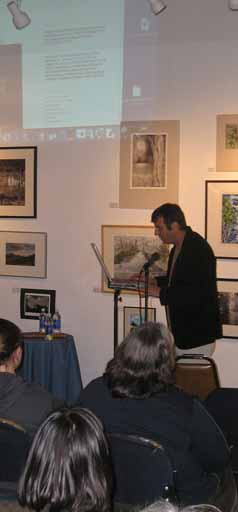 Then the soulful baritone voice of Richard Jeffrey Newman hovered in the chill air as it went through
"Because"
, "After Saying Goodbye to You Three Times in Three Days," "Dear Yoon," "Dear Ji-in," "After Dancing in the Diana Nightclub with a Woman My Friend Paid For Against My Wishes," and
"The Silence of Men"
.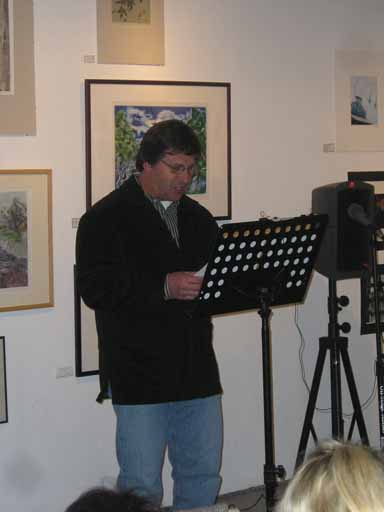 Shawn Pittard finally rounded off the evening by reading from his
Oct. 24, 2006 post
about Robinson Jeffers. He explained how The Great American Pinup has been a venue where he has taken great pleasure in exploring what he had to say before he knew what that was. Then he read the poem that is found on the Oct. 24, 2006 post by Jeffers entitled, "Birds and Fishes." At long last, wishing every one in the audience a speedy recovery from their frostbitten tissues, he read a poem that had been inspired and influenced by the Oct. 24 post.
The crowd shuffled their feet to get their circulation going, and the hope was that fond thoughts of the evening would continue to circulate through the dark of the Sacramento night and through the interstices of the world wide web.