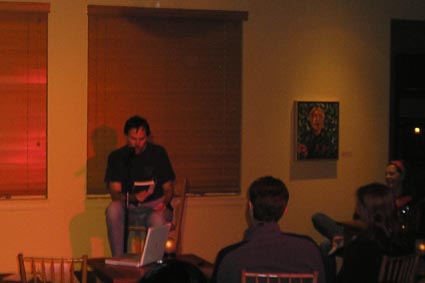 Joe Wenderoth appeared at Bistro 33 in Davis, California to read for an extended period of time.
Hosts Andy Jones and Brad Henderson kicked things off with a few poems of their own, and then Wenderoth started out singing some down home blues songs (accompanied by
Jason Morphew
) and finished off his musical set with a semi-derisive (yet still reverent to big Hank) rendition of "I Saw the Light."
Wenderoth then read a long and involved piece about Tony's, a strip bar in Baltimore, that features some unusual fare in contemporary stripping. The emphasis at Tony's is on the strippers' not titillating the patrons but invoking schadenfreude.
He then proceeded to read several selections from what was hailed by
Rolling Stone
as one of the notable books of 2000 (a fact that Wenderoth disputed), namely,
Letters From Wendy's
. The central project of this book is that Wenderoth composed each one of his entries on a customer comments card at a Wendy's restaurant. The book is the sum total of his efforts at "improving" Wendy's for future customers. Wenderoth expertly reads
selections from Letters to Wendy's
, and if you close your eyes, you can almost see him briefly lick his lips when he delivers one of his drop-dead funny, tongue-in-cheek lines.